Cryptocurrency Email: Crypto Security Guide Part 2
Are your emails safe from hackers? Unfortunately, the answer is 'No' unless you're using a secure email service. 
We will take you through the free and easy steps you can take right now to protect yourself and your crypto by having a secure email address. If you haven't already you can find our Crypto Security Guide Part 1 – Cryptocurrency Passwords here.
Are you making these email security mistakes?
Ok, so I have a Confession….when we started out in crypto we simply created one standard Gmail address for all our crypto logins. 
We used the same address for every crypto account, app, social media account, newsletter, and more.
To make matters worse, I used my main non-crypto email address as a recovery address in case I lost the password to my crypto logins.
None of my emails were properly encrypted so if the account had been accessed a hacker could read everything in there.
We were so so lucky not to get hacked and I cringe now at how vulnerable all our accounts were. 
Learn from our mistakes.
Let me explain why it is a mistake to do the things we did.
– I assumed our Gmail account was 100% encrypted.
This was not the case. Only emails coming from senders using the same encryption system as Gmail were 100% encrypted. 
– I also assumed that it was safe to use the same email address for everything crypto.
I didn't stop to think that my crypto email address was actually part of the 'security' layer for all of the accounts we hold. Email is the standard way for verification.
I was happily using my Crypto-email everywhere online, making it much much easier for a hacker to discover it, or for it to end up on some list for sale on the dark web.
Finally,
I didn't realize how important it was to have a very secure recovery email address.
Your recovery email address is the one place companies can send your password or reset instructions when you are locked out of your account.
I had used my primary day-to-day email address ( the least secure of all, which I had used all over the internet from eBay and Amazon to forums and marketing pop-ups) as my recovery email address!
We were lucky.
If this account had been hacked it would have been possible for a hacker to reset every password I have, locking me out of all of my own accounts!
The hacker could then go on to steal any money or crypto in those accounts, in their own time! Yikes!
You really need to be creating and using a secure email address for everything related to crypto. 
We are sharing this guide to help you create your own secure crypto email addresses.
Before we start:
We can't stress enough how important it is NOT to store any important information about crypto on your computer or your phone or in the cloud or anywhere else that a hacker can get to it. If it is digital they can hack it!
Forget about saving passwords in your browser, or in your passwords folder, by emailing them to yourself, in a spreadsheet or in a notepad app on your phone. Even as a photo!!
If you want to protect your crypto from hackers you need to be recording all this information 
BY HAND, OFFLINE, SOMEWHERE SAFE !
Some people choose to use notebooks to record all their sensitive crypto information with one for daily use and 2 other notebooks, acting as backup copies, stored somewhere safe.
Our experience in crypto led us to develop our own crypto recording sheets, that we fill in by hand, make backup copies of, and store in folders. 
What is a secure email address?
A secure email address is one that uses end-to-end encryption to protect you from people intercepting and capturing your login details and reading the emails you send and receive. 
It also protects and encrypts all the emails you save in your inbox and folders. This means that should someone access your email account they won't be able to read any of the emails as they are scrambled. 
Only you have access to a secret key that unscrambles the emails and makes them readable.
Why is secure email important?
If your email is not encrypted and someone accesses your account, they can scroll through your mail to see who you bank with, who you have crypto accounts with, and your online shopping accounts ….it just makes it too easy for hackers.
It is possible to choose to only encrypt the email messages that you feel have sensitive information in them, but that is a bit like painting a big red target on them so hackers know which emails to concentrate on.
When you encrypt all your email messages as standard, then any hacker has to decrypt each email one by one to find something useful and in a lot of cases, this really won't be worth the effort!
Setting up a new secure encrypted email address for Crypto is easy and can be done for free. 
There are many secure email providers out there and different factors you may want to take into account when choosing one. 
To save you time here are the top encrypted email providers we use for our crypto accounts.
Top Free Encrypted Email Providers
1) Protonmail
ProtonMail is a Swiss-based, encrypted email provider. It works with PC, iOS, and Android mobile devices.
It offers a free version that includes 500 MB of email storage and 150 email messages a day. 
(It is possible to upgrade to paid versions but we have found that the free email service is more than enough for what we need it to do).
Pros:
If you hold a free Protonmail account it is also possible to access
Protons free VPN service to add even greater privacy whilst you are online.
Proton Drive with up to 1GB of storage space
Proton Calendar with one free personal calendar + the ability to send and receive invites.
Cons
The free version has limited email storage space and number of emails you can send each day so would not work as our main email address but is more than enough to take care of our crypto needs.
2) Tutanota
Tutanota is a secure email provider based in Germany and is subject to German privacy laws.
It offers a free version of its service with 1GB of email storage and is compatible with PC, iOS, and Android devices. 
(It is possible to upgrade to paid versions of Tutanota but we have found that the free version is sufficient for what we need it to do).
Pros:
Cons:
Tutanota requires a 48-hour verification period before your free account is activated.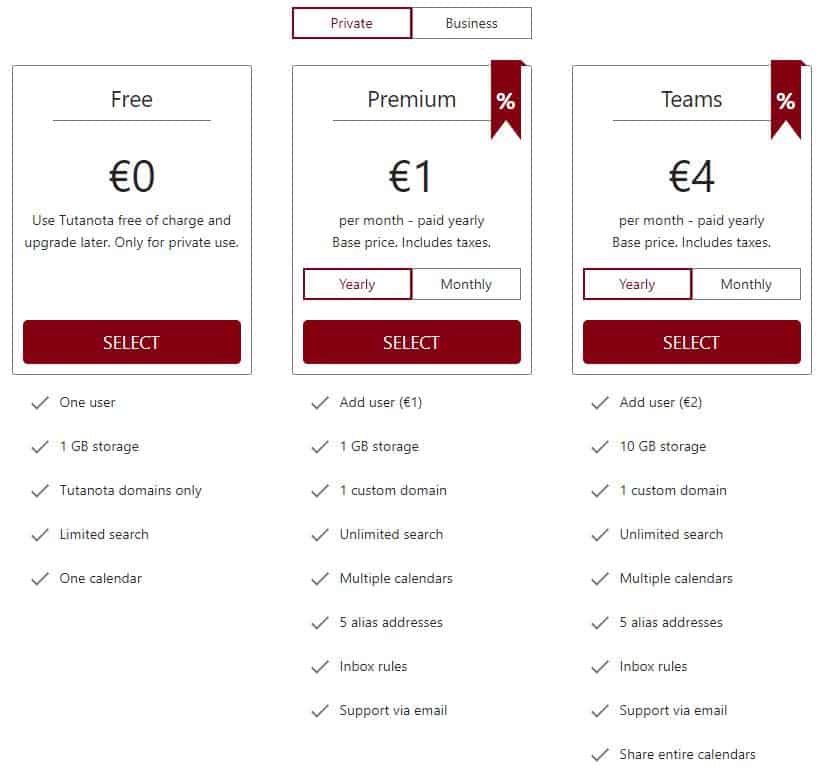 Other Secure Email options
It is actually possible to access free email encryption services that you can use with your existing email addresses such as Preveil and SecureMyEmail. 
They are free to use, offer apps for mobile devices and have good compatibility with Gmail, Yahoo, or Microsoft email accounts.
How many encrypted Crypto Email addresses do I need?
We would suggest starting out with a minimum of 3 encrypted email addresses.
Use one secure email address for all your crypto accounts with exchanges and wallets.
Create a second secure email address for your crypto app logins, social media accounts, crypto newsletters and frequently used crypto websites.
Create a 3rd encrypted email address that purely acts as your recovery email address for all the crypto accounts above.  It is also suggested that this one email address is provided by a different company than the first two.
Conclusion
Google, Microsoft, and Yahoo are not known for being the most secure email providers and don't have a great history when it comes to data breaches. 
However, they also don't encrypt your messages end-to-end or respect your privacy.
These giant email services will actually scan your emails for keywords to show you more personalized ads! In the terms and conditions, that nobody reads, you have actually agreed to them doing so!
With secure email through Protonmail and Tutonota it is reassuring to know that they can offer free versions of their services because they make their money through selling paid versions of their plans rather than through advertising or sharing your data.
When it comes to Crypto security, every small step you can take to protect your investment makes you less of a target for cybercriminals. 
Don't be a victim, boost your security today by setting up secure passwords and email for all your crypto needs.