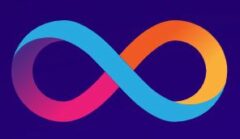 What is Internet Computer
The Internet Computer is a bold project that builds on the current version of the Internet. With Internet Computer the Software/Applications that you access would be actioned, as well as stored using blockchain technology, on a decentralized network.
eg When using a Video App, rather than going to the server at the Video company's base the software would run on the Internet Computer, using the processing power of its decentralized network and the decentralized storage.
Internet Computer Explained
Internet Computer Tokenomics:
24.72% Seed Investors: those who invested in Feb-2017 for a total of CHF3.9 million (Swiss Francs)

23.9% Dfinity Foundation: The Dfinity Foundation manages the capital raised from the token sales. It also oversees its Foundation Endowment of ICP tokens. These tokens are those held by or already spent by the Foundation to fund R&D, operations, acquire technology, finance community-building programs, and partner incentives.
18.0% Team Members: There are ~200 team members
9.5% Early Contributors: these are the 50 people who helped in the team before the Foundation was set up
7.0% Strategic Investors: from the $20.54 million raised from Polychain Capital, Andreessen Horowitz, CoinFund, Multicoin Capital, and Greycroft Partners
4.96% Private Presale Investors: from the $97 million raised from a16z, Polychain, SV Angel, Aspect Ventures, Electric Capital, ZeroEx, Scalar Capital, and Multicoin Capital
(source : Messari https://messari.io/report/an-introduction-to-dfinity-and-the-internet-computer?referrer=asset%3Ainternet-computer ) 
The ICP token has three main uses:
*The token can be converted to Cycles that are burned to power computation which creates deflationary pressure on the ICP token.
*It can also be staked as part of governing the blockchain, generating voting rewards for stakers.
Governance and voting power is heavily weighted towards staking for a full 8 years and is designed to incentivize early adoption. Initially at genesis, 10% of the total supply of ICP is distributed in voting rewards on an annualized basis. Over the course of eight years, this number falls to 5%.
*The ICP token can also be used in order to participate in token swaps of DAO's.On launch, the ICP token price rose to approximately $700 before the token crashed, raising concerns that pre-launch token holders had been free to sell their tokens without a cliff or vesting period at Genesis.
Earning Potential Options
Initial Investors:
a16z,
Polychain,
SV Angel,
Aspect Ventures,
Electric Capital,
ZeroEx,
Scalar Capital,
Multicoin Capital
Arweave aims to permanently secure the world's knowledge by using blockchain-based storage. They do this by creating a permanent, decentralized, and unalterable record of data. This could b […]
Storj is a decentralized data storage project. They encrypt the files before splitting them amongst nodes all around the world offering high security, privacy, fast delivery, resilience aga […]
What does Internet Computer do?
The Internet Computer attempts to offer a fundamental alternative so that developers can build, host, and serve applications in a more decentralized way, allowing websites to be deployed directly onto the public internet.